www.thepianomover.com                 516 381-2328                                 www.nypianorestoration.com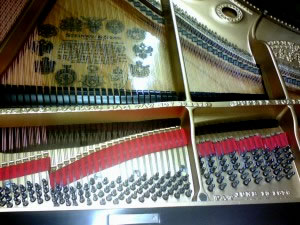 516 381-2328

Concert Quality Piano Tunings, Steinway Piano Experts
Please Don't Use a Home Restoration Company or
Furniture Mover To Move And Restore Your Piano!
When you experience an unfortunate event of a Fire and your piano has been involved it is critical to remove the piano from the fire damaged area and secure the piano in a stable environment to stop or slow the damaging effects to the piano from the fire. (REMOVING THE PIANO IS CRITICAL … We offer 24 hour emergency service for your piano 516 381-2328.
Upon the arrival of your piano at our state of the are piano restoration facility the piano will be secured in our climate controlled work area where the damage can be assessed and our team of piano restoration craftsman can help minimize further damage.
We offer complete piano appraisal services including piano loss evaluation. For insurance professionals a determination can be made of the piano value and the cost of repairs as compared to replacement cost.
Evaluation of a Fire damaged Piano
A complete set of technical notes is taken, documenting the original condition of the piano. Technical measurements useful in the rebuilding of the instrument include:• String height
• Bearing
• Key height and dip
• Down and up weight of keys
• Friction and action ratio
• Plate orientation and many other important details
• Original finish samples are carefully saved for reference
These notes are used for reference in the rebuilding process.
Belly repair and restoration

The belly includes the piano soundboard and ribs, pin block, strings, tuning pins, belly rail and plate (iron frame) and damper system. The belly system is of great importance to the piano. The soundboard is sometimes called the "soul" of the piano. As such we consider soundboard repair and conservation of great importance and relevance to our process. Two options are offered in belly restoration, The first of which is to restore the existing soundboard. The second is to replace the board with a custom duplicate made by a prominent soundboard manufacturer. Determination of soundboard repairs is based on the existing "crown" (forward shape of the board…a diaphragmatic condition which allows the board to adequately move air in response to string vibration and frequency transfer appropriately) and the amount of repair in terms of cracks, loose or flattened ribs, or other negative conditions. Many soundboards can be successfully repaired and remain effective following restoration. Soundboard replacement is offered when there is a lack of crown causing a condition of negative bearing. We offer custom made soundboards
The Finishing Process
After the piano has been carefully disassembled, each cabinet part is stamped with the piano serial number for secure identification. All cabinet parts are hand stripped, I.e., finishes are removed by application of a non-flammable finish remover. Our process does not ever include "dipping" of finishes for stripping purposes. We feel that the dipping method, while faster and more economical, causes problems-fine woods swell, veneers come loose and rich wood tones can distort and bleach.Piano rims are made of several layers of solid wood sheaths that are laminated together during a rim forming process when the piano is first made. Following construction of the rim a veneer surface is applied. This surface may be of mahogany, walnut, rosewood or other fine wood type and gives the piano its wood tone and appearance. Although some pieces or cabinet parts may be of solid wood construction, most parts of the piano are veneered. Sometimes veneers come loose or are damaged. All wood surfaces are carefully checked for proper adhesion and any possible damage prior to the staining and sealing process. Loose edges, chips, burns, water or other damage are repaired and the piano cabinet is made ready for the finishing process to follow.Grain filling:Grain filling is the first step in the finishing process. Grain filler is a thick paste intended to backfill wood pores, which will be the first step in a smooth and flush closed-pore final finish. Ultimately this finish became known as a "piano" finish in the wood finishing industry.Staining: Wood surfaces are stained to a custom wood tone or the classic ebony finish. Stains are sometimes applied in stages to allow for the desired wood tone and texture.Lacquer Sealer: Lacquer sealer coats are applied to seal the filler and stain and act as bond and barrier to the lacquer finish coats to follow.
Keyboard Restoration

Piano keys rest upon a key frame. The frame consists of a series of three rails and two complete sets of key pins. Piano keys pivot at the center rail key pin and travel to the bottom of their travel at the front rail key pin. The frame is the base for the keyset and as such is responsible for key level. It is the basis for power transfer and a desirable piano touch. The key frame is carefully "bedded" to the keyed in a process of key frame glide regulation and fitting of wood surfaces between the underside of the Cleaning and Re-felting of the Key frame:The key frame is cleaned and checked for proper integrity of all components including the slats and rails, glides and key pins. Key pins are made of metal and are a typical source in older pianos of unnecessary friction. Pins are polished to remove corrosion and dirt in a two stage process.High quality balance rail and front rail felts are installed. New key felts rest upon a series of paper and cardboard regulating punching.New back rail cloth is also installed at this time.

Piano Keys:Piano keys are made of conifer or soft wood varieties; typical is sugar pine and some are spruce. The piano key is the vital link between pianist and piano. Although from the outside not much meets the eye beside the appearance of the key top surface, inside the piano the key is acting as a long lever arm, balancing at the center rail (also known as balance rail) and engaging the piano action. Key travel is guided by the key button and front mortise, both of which have felt bushings installed. Key bushings are replaced and regulated as part of the rebuilding process. At the end of the key are the capstan and back check. Capstans are polished to reduce friction and back checks are either re-conditioned or replaced.Key tops:These may be original ivory. If desired, Piano Renaissance can restore original ivory key tops, repairing chips as needed and re-gluing ivory surfaces. If too many flaws exist in the ivory key tops we may recommend replacement with new quality synthetic coverings. Ebony or "sharp" keys are refinished in our custom ebony lacquer
The Action:
The piano action consists of hammers, hammer shanks and flanges, repetitions or wippens and wippen flanges. These parts work together to bring the hammer to the string. Piano hammers are a major component of the sound of the piano. As such we use only the finest piano hammers including Steinway, Abel and Renner. There are other excellent choices. The repetition or wippen is a small but complex mechanism which act as the mechanical link between the key (brought into play by the capstan) and the hammer (engaged by the knuckle). Once the action parts have been installed they must be regulated.Action Regulation:Piano regulation is a lengthy process which includes many adjustments. All regulation adjustments are intended to optimize the touch or feel and response of the piano. Included in the regulation process are key easing, squaring, spacing, level and dip, alignment of wippen cushion to capstan, jack spacing and alignment of jack tender to let-off button and jack top surface to knuckle. Repetition lever height, repetition spring tension, hammer alignment to strings and hammer travel are adjusted Blow distance and key dip are regulated for best after touch. The regulation process includes work with the key bed and key frame, keys, repetitions or wippens, hammers and the damper system. The entire process is one which is refined and repeated until the complex mechanisms of piano operate at peak efficiency.Hammer Shaping and Voicing:New piano hammers require shaping and voicing. Shaping is a process of filing surface felts which are under tremendous pressure to remove the cupping shape which is a result of the manufacturing process. Shape contributes to sound. Voicing is a process of adjusting the tension of the hammer felts in order to allow the hammer to produce a full dynamic range and pleasing sound quality. This is done by needling, filing, ironing or lacquering the hammer felts. Successful voicing requires expertise.Completion of the piano restoration process involves looking carefully at everything that has been done to date. This includes finishers checking the finish and performing a final burnishing and rub of the finish and polishing. Details of importance include a smooth and even finish and solid edges.Final assembly: A technician re-assembles all cabinet parts and installs beautifully re-plated brass or nickel hardware. Legs and pedal lyre are attached, pedals are regulated to the damper system. The name or "fall" board is carefully installed and all functions of the piano are fully tested. Tuning completes the process.
Insurance loss professionals, homeowners and directors of institutions who experience piano damage by fire, water, smoke and soot, accident or vandalism can call Piano Renaissance for needed piano repair and restoration services. Fire loss may be the most common casualty, producing similar smoke and soot related damage–most obviously to the exterior but also commonly penetrating thoroughly to the interior of the piano. Fire damaged pianos (those damaged by smoke, water and soot) can often be fully restored at Piano Renaissance.

We offer complete piano appraisal services including piano loss evaluation. For insurance professionals a determination can be made of the piano value and the cost of repairs as compared to replacement cost.
Fire Damage Restoration
Providing Premier Restoration and Cleaning Services
If your home or business has been affected by water/flood, fire, or mold damage, let Mid Suffolk Flood Restoration help you restore it to its previous state. We have the experience to get it done quickly and thoroughly. We have the compassion to know what you are going through at this time. We provide a wide array of restoration and cleaning services and we are devoted to helping you.When your home or business has experienced damage from flooding, fire, or mold, we are the team you will be glad to see. Our team of professional restoration and cleaning professionals pride themselves on their ability to provide prompt, affordable services that exceed your greatest expectations. If you are looking for a professional restoration company dedicated to providing quality service in an efficient and economical manner,The Piano Mover and NY Piano Restoration is your best choice.
60 minute response time!
24/7 emergency service for: water damage cleanup, pump out, dry out, water removal, and debris removal service. Certified Technicians that are highly trained and experienced with all types of water damage situations.

The New York Piano Mover is a full service piano restoration company servicing New York, from Montauk Point to NYC /Manhattan for more than 20 years and offering climate controlled piano storage and concert quality piano tunings by our staff of Steinway piano experts. (Please call today for your Free Piano Moving Estimate.516 381-2328)
Bill Rogers The Founder of The New York Piano Mover also known as the piano mover. com was hired by the Steinway piano company in Queens New York 11105, With almost a quarter century of piano restoration experience The Piano Mover has serviced the New York and Long Island, area and is recognized by our thousands of customers and colleagues as a piano restoration expert and a full service piano restoration company with integrity and the willingness to achieve excellence in piano service every time.
The New York Piano Mover services pianos and moves pianos in all of Long island school districtand we offer climate controlled piano storage and concert quality piano tunings by our staff of master craftsman piano tuners and piano restoration experts.
The New York Piano Mover Located in Bohemia NY 11716 restores grand and upright pianos with attention to detail in our high quality piano re-finishing and piano re-building.
The New York Piano Mover Inc is a full service piano restoration company. 516 381-2328
(Please Don't Hire A Furniture Mover To Mover Your Piano!)
The New York Piano Mover is a professional Piano Mover, In fact we move hundreds of pianos a year and we are also piano re-builders and concert piano tuners.
(The New York Piano Mover is your number one choice for a full service piano restoration  New York 6.)
We are the  NY,  Full Service Piano Restoration Company! If you have any questions about Piano Moving, Piano Tuning, Piano Restoration in NY, Please call us 516 381-2328