Piano Moving, Patchogue, Long Island         516 381-2328            www.thepianomover.com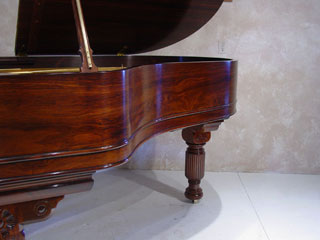 If your piano needs to be stored, either temporarily or for longer periods, make sure the piano is first moved properly by a qualified piano mover, then stored properly by a professional piano storage company such as the long island piano mover. Stored incorrectly, a piano and its components may warp, damaging the hardwoods and other piano components. This is most often due to changes in humidity and temperature where the piano is stored. All modern piano manufacturer warranties strongly suggest pianos be kept as far as possible from all sources that change in temperature and humidity including windows, baseboards, radiators, vents, AC units, fireplaces, and outside walls.
If you're remodeling or repairing your home, don't risk damage to your paino. The Piano Mover can professionally move your piano, then store your upright or grand piano in our climate-controlled piano storage and warehouse facility located in Suffolk County, Long Island. Our facility features a full service tuning, restoration, refinishing, and rebuilding workshop, offering racked storage. Stop by or call us to see our facilities!
We offer a complete line of piano services including the following:
– Piano Moving
– Piano Tuning
– Piano Repair
– Piano Voicing
– Piano Restoration
– Piano Refinishing
The Piano Mover is the Patchogue, Long Island, NY, Piano Mover and Full Service Piano Restoration Company. Servicing the town of Patchogue, LI, 11772, 25 years offreing quality concert piano tuning affordable piano repairs and on time expert piano moving. 516 381-2328 www.thepianomover.com